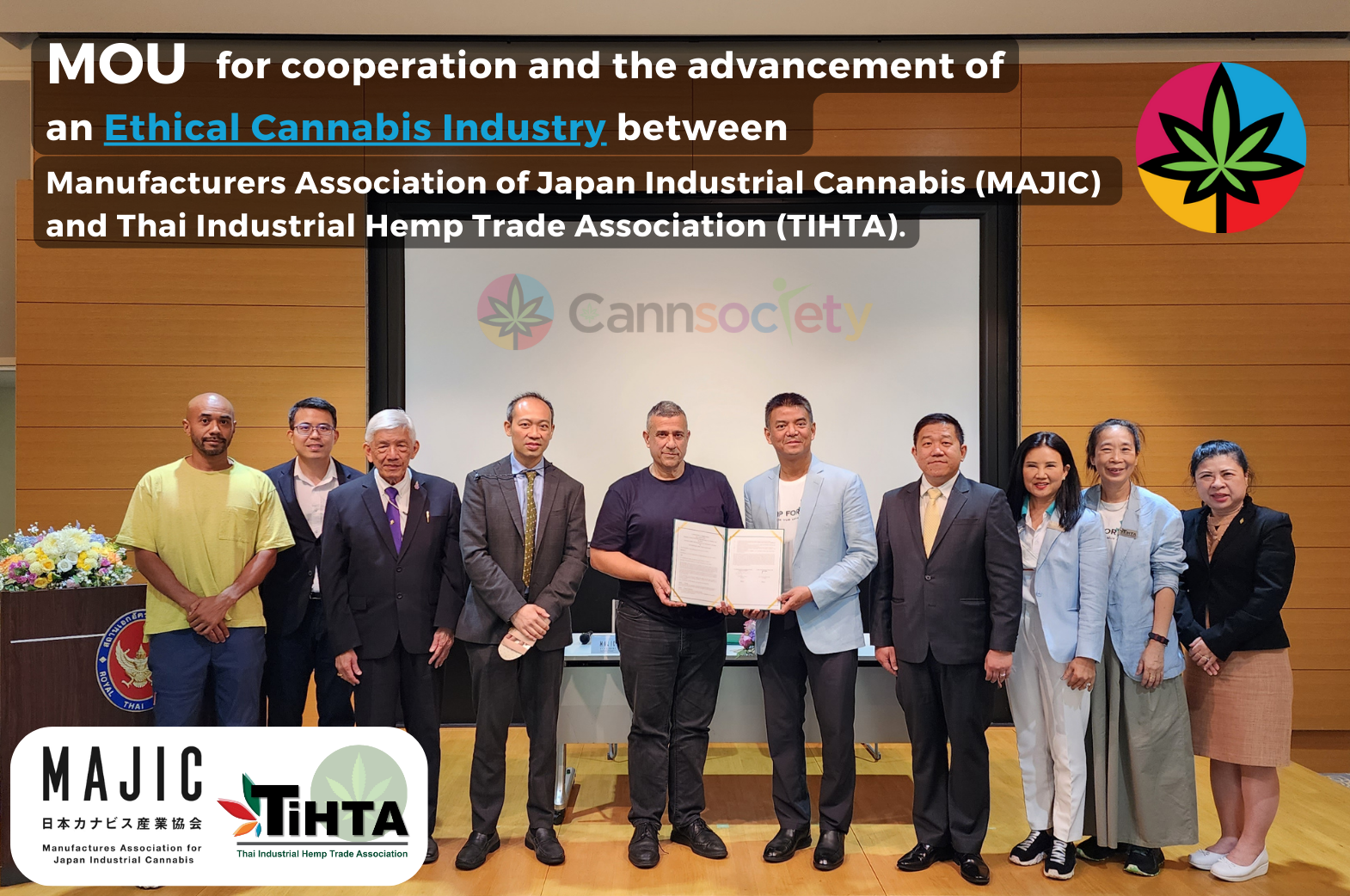 Tokyo, Japan – June 16, 2023 – Manufacturers Association of Japan Industrial Cannabis (MAJIC) and Thai Industrial Hemp Trade Association (TIHTA) have signed a historic Memorandum of Understanding (MOU) to foster collaboration and promote the growth of an ethical cannabis industry in Japan, Thailand, and the rest of Asia.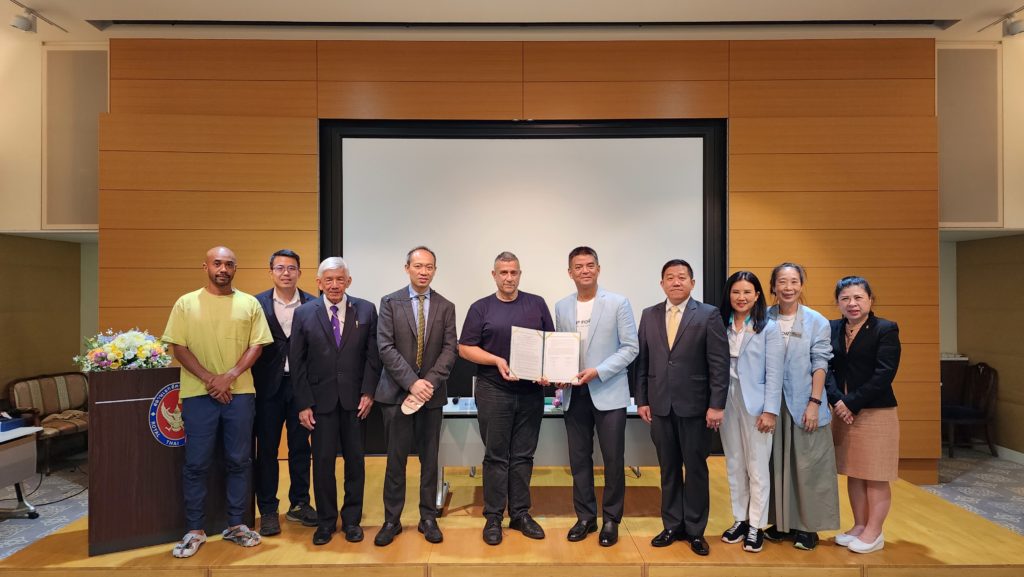 Both MAJIC and TIHTA, along with their respective members, share a common commitment to the ethical development of the cannabis industry. Recognizing the potential for cooperation and the promotion of their shared mission, the two organizations have come together to advance the industry's interests and contribute to its sustainable growth.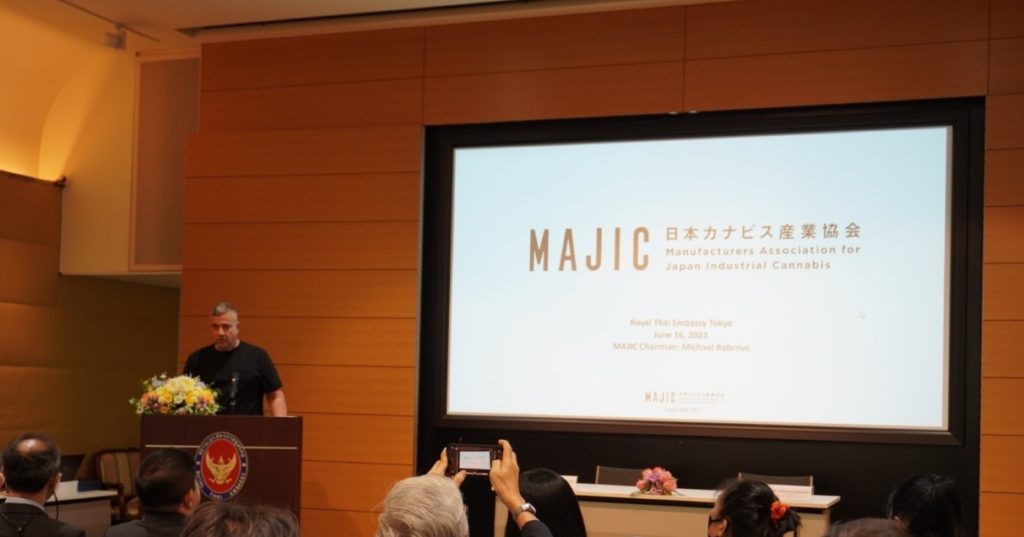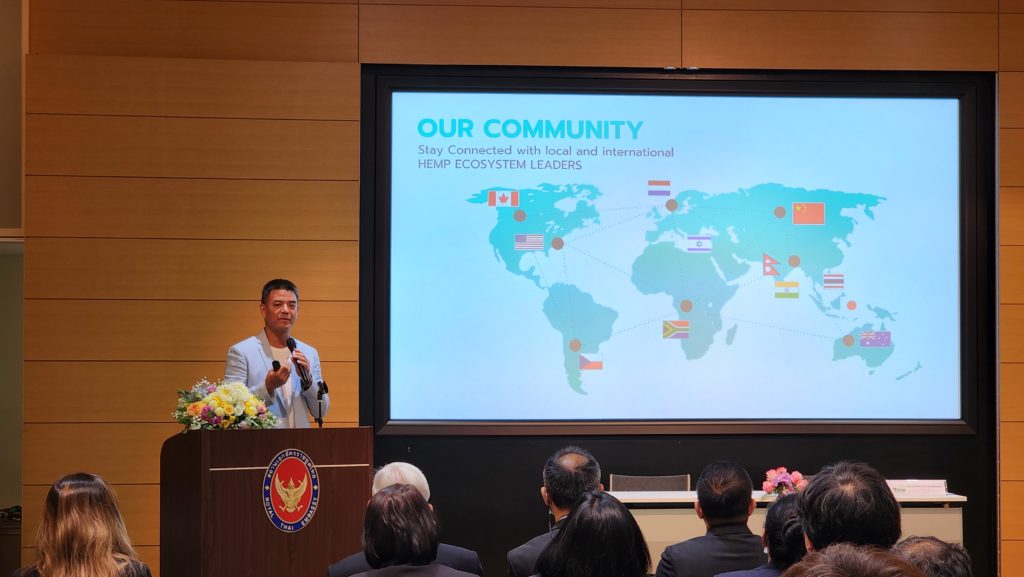 Japan has emerged as a frontrunner in Asia for cultural hemp products, as well as the legal advancement of CBD and non-THC related food and cosmetics. Thailand, on the other hand, has unlocked regulations to allow cultivation, production, importation, ownership, and distribution of hemp seeds, making it a potential economic crop with diverse applications and significant economic value. The growing global market demand for hemp has also amplified interest in the plant.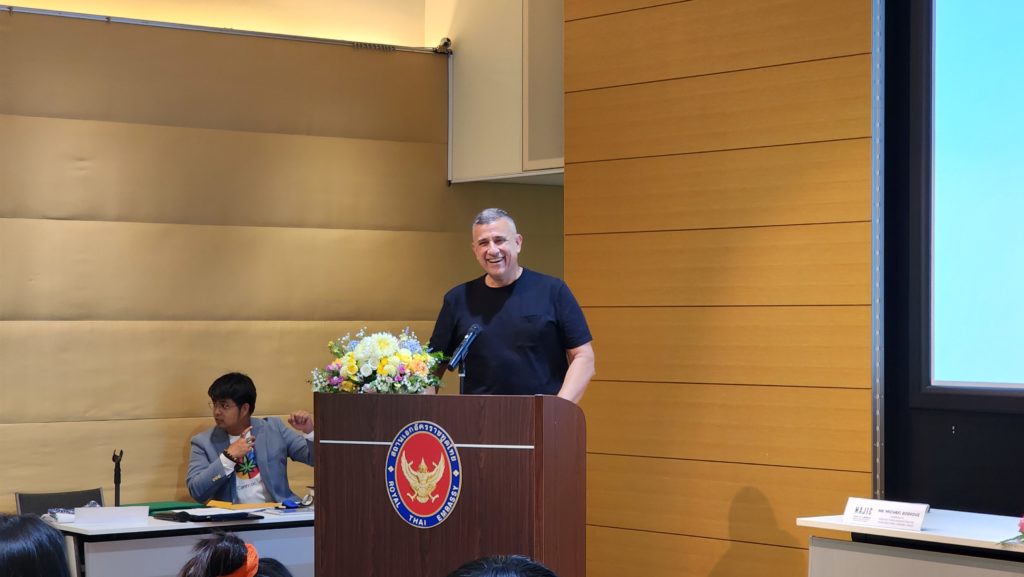 Both organizations acknowledge that other countries in Asia are increasingly recognizing the health and economic benefits of cannabis. To ensure an ethical approach, including self-regulation and practical discussions with industry and government stakeholders, cooperation between MAJIC and TIHTA is of utmost importance.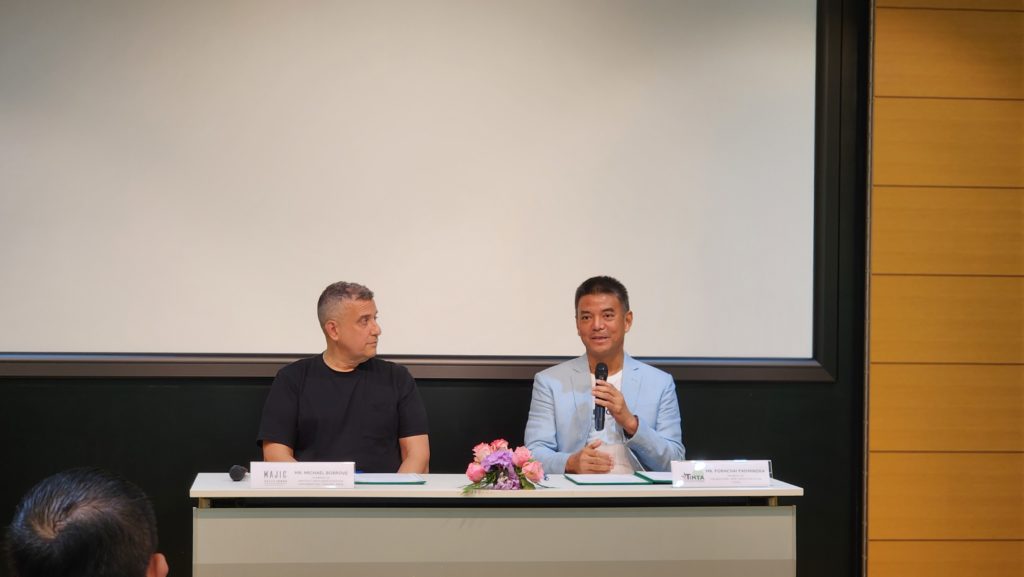 There is a growing consumer interest in Japan and Thailand for the safe and effective usage of hemp products. MAJIC and TIHTA aim to address this demand by exchanging accurate information and promoting the benefits and safe usage of hemp products. They also intend to collaborate on advocating for improved laws regarding hemp product development, production, and marketing, in alignment with the needs of the hemp-related businesses.
Additionally, the organizations will work together to establish industry standards that guarantee the quality and safety of hemp products. Through knowledge exchange programs, members of TIHTA and MAJIC will benefit from sharing expertise and insights.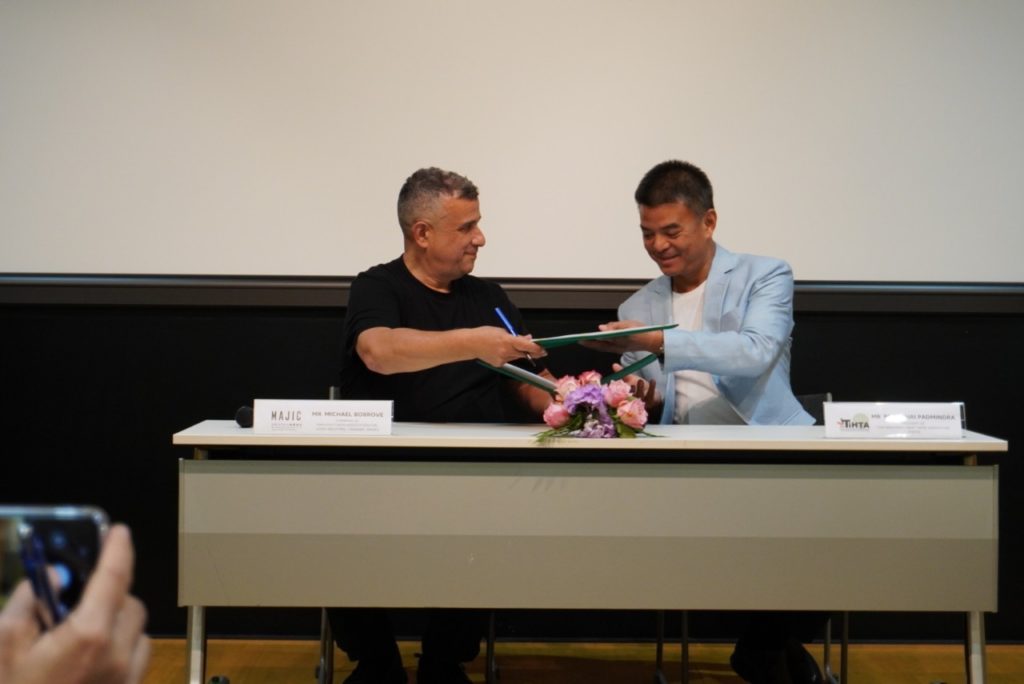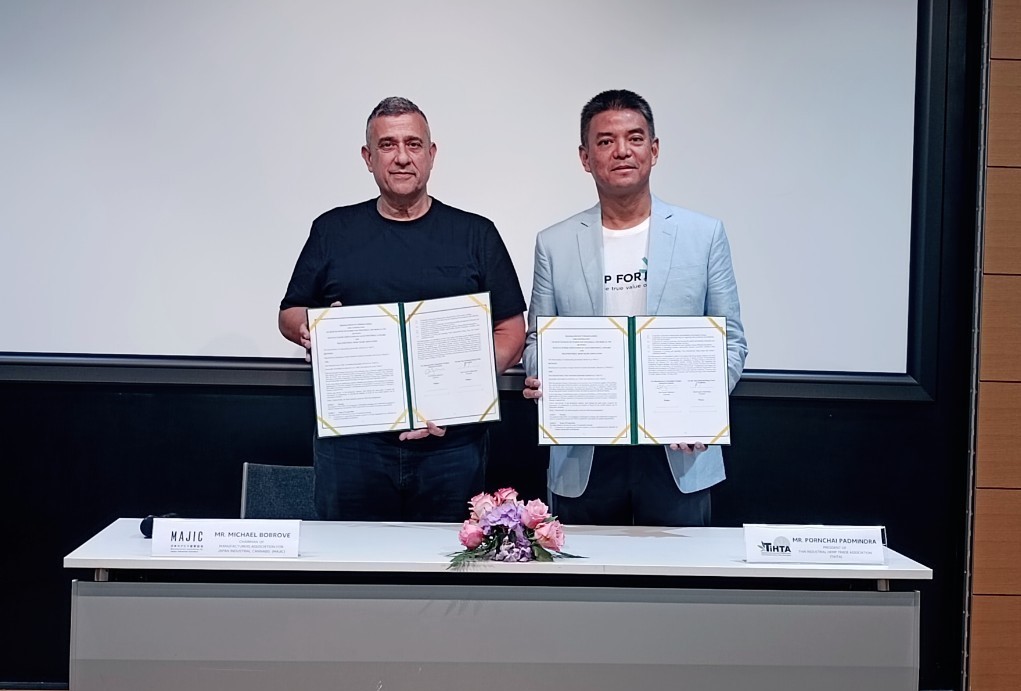 Both MAJIC and TIHTA look forward to a fruitful partnership that will contribute to the responsible growth of the cannabis industry, benefiting consumers and fostering economic development across in Japan, Thailand and across Asia.

About MAJIC:
The Manufacturers Association of Japan Industrial Cannabis (MAJIC) is a leading organization dedicated to the ethical growth and advancement of the cannabis industry in Japan. With a focus on promoting innovation, quality, and safety, MAJIC represents a diverse range of stakeholders, including manufacturers, producers, and distributors.

About TIHTA:
Thai Industrial Hemp Trade Association (TIHTA) is at the forefront of the industrial hemp industry in Thailand. Committed to unlocking the full potential of hemp and driving economic growth, TIHTA supports businesses involved in cultivation, production, and distribution. The association aims to promote sustainable practices and establish industry standards.
TiHTA Contact :
[Address] SSP Tower, 11th Floor, 555/17 Sukhumvit 63 (Ekkamai), Klongton-nuea, Vadhana, Bangkok 10110, Thailand
[Phone No.] +66 2-711-4170-3 , +66 80-005-0161
[E-mail] tihta.info@gmail.com
---
一般社団法人日本カナビス産業協会MAJIC)とタイ産業用ヘンプ貿易協会。タイ産業用ヘンプ貿易協会(TIHTA)は、倫理的なカナビス産業の協力と発展を促進するための協力を意図とする歴史的な基本合意書(MOU)に調印しました。
MAJICとTIHTAの両組織は、それぞれのメンバーと共に、カナビス産業の倫理的な発展に対するの取り組みを共有し、ミッションを推進することにより、業界の利益を促進し、持続可能な成長に貢献するために協力することを目的としています。
日本はアジアで産業用ヘンプ製品やCBDおよび非THC関連食品や化粧品の合法的な発展において先駆者となりました。一方、タイはヘンプの栽培、生産、輸入、所有、流通を認める規制を解除し、ヘンプは多様な用途と著しい経済的価値を持つ潜在的な農作物となりました。ヘンプへのグローバルな需要の増加にも、関心が高まっています。。
両組織は、アジアの他の国々におけるカナビスの健康および経済的な利益に対する理解が深まっていることを認識しています。自己規制や業界および政府の関係者との具体的な議論を含む倫理的なアプローチを確保するためには、MAJICとTIHTAの協力が非常に重要です。
日本とタイの消費者のヘンプ製品の安全で効果的な使用に対する関心はますます高まっています。MAJICとTIHTAは、正確な情報交換やヘンプ製品のベネフィットと安全な使用の促進に取り組むことで、この需要に応えることを目指しています。また、ヘンプ製品の開発、生産、マーケティングに関する法律整備の推進や、ヘンプ関連ビジネスのニーズに合わせた業界基準の確立に協力する意向もあります。
さらに、両組織はヘンプ製品の品質と安全性を保証する業界基準の確立に取り組みます。TIHTAとMAJICのメンバーは、知識交換プログラムを通じて専門知識と洞察を共有することによってベネフィットを得ることになるでしょう。
当MOUは、2023年6月16日(金曜日)に東京のタイ大使館で調印されました。
MAJICとTIHTAは、日本、タイ、そしてアジア全体での責任あるカナビス産業の成長に貢献する双方にとって実りあるパートナーシップを期待しています。
MAJICについて:
一般社団法人日本カナビス産業協会(MAJIC)は、日本のカナビス産業の倫理的な成長と発展に取り組む主要な組織です。革新、品質、安全性の促進を重視し、製造業者、生産者、流通業者を含む幅広いステークホルダーを代表しています。
TIHTAについて:
タイ産業用ヘンプ貿易協会(TIHTA)は、タイの産業ヘンプ業界の先駆者です。ヘンプの可能性を最大限に引き出し、経済成長を推進することを目指し、栽培、生産、流通に関するビジネスをサポートしています。協会は持続可能な実践的な施策を促進し、業界基準の確立を目指しています。
報道関係者様へのお問い合わせ:
[名前] 浅間亜紀
[役職] 事務局 マネージャー
[組織名] 一般社団法人日本カナビス産業協会(MAJIC)
[電話番号] 090-3331-3955
[メールアドレス] a.asama@majic.jp
[ウェブサイト] majic.jp